A Mechanical Room retrofit is one of the many things we do here at PJB Mechanical. This project in New Westminster removed two domestic hot water boilers and two heating cast iron boilers to a customized set up of six high-efficiency boilers. Watch the video for a more complete story!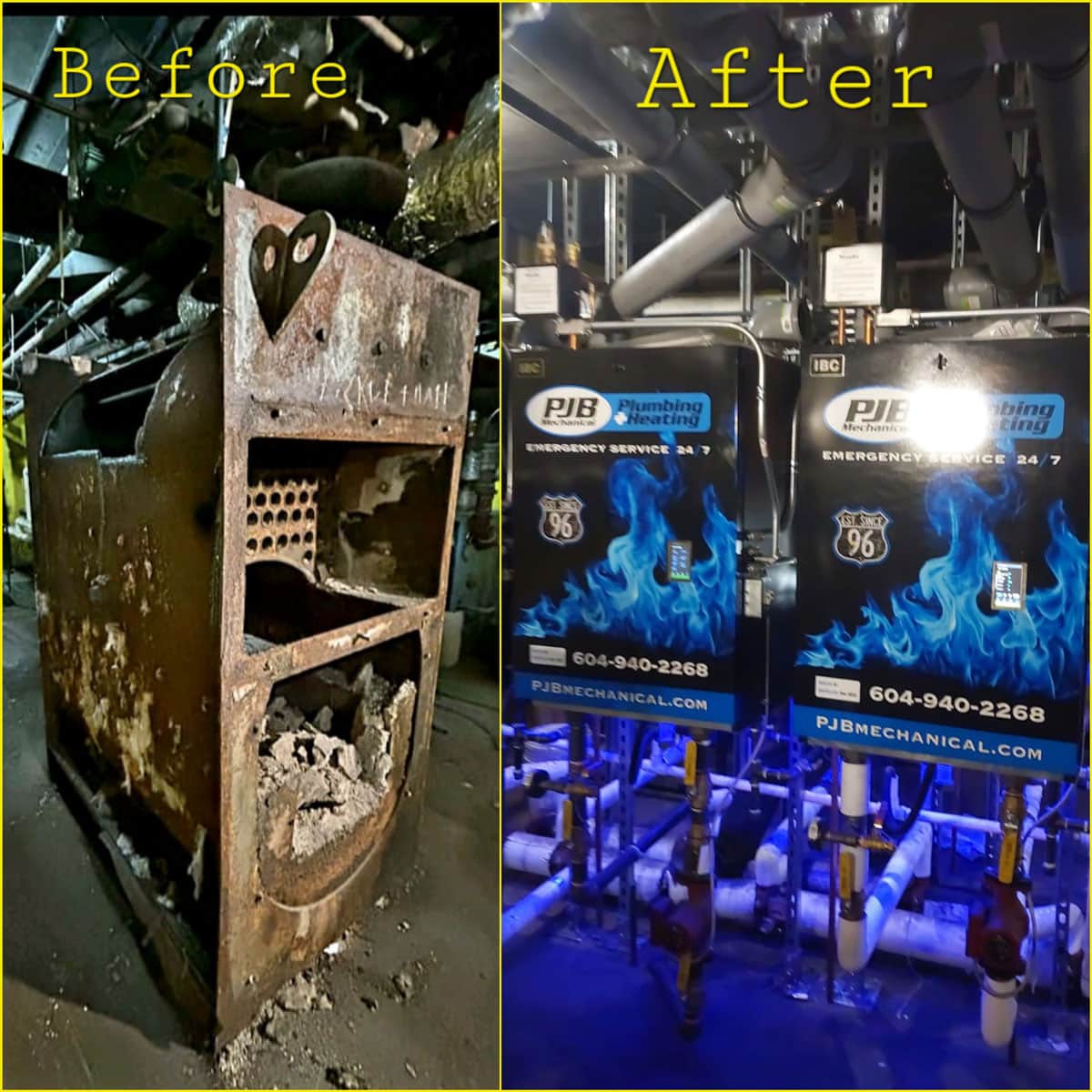 Before & After energy efficient boiler upgrades
Many condo and apartment buildings that were built decades ago are still using the same heating plants they were originally built with.
These systems cost a lot in maintenance and repairs. They are very inefficient in their use of energy. They lose so much efficiency of the fuel they burn, compared to how much heating they produce. This is a major problem for greenhouse gas emissions.
PJB Mechanical replaces these old heating boilers with new High-Efficient systems. These are state of the art. They are incredibly efficient and can save the building a considerable amount of money in their fuel bills.
We rebuild the whole mechanical room by taking out the old dinosaurs and replacing them with new clean technology. A nice bonus is that this often frees up a large amount of space in the mechanical room, that can be repurposed.
As shown in the pictures and video, we can even wrap the boilers and install LED lighting that will change colours to indicate when a boiler has a problem.
grants and rebates are available
There are grant programs in place that have some very large rebates to encourage building owners to take this step into newer, greener technology. We work with Energy Consultants who are experts in getting maximum efficiency out of these systems and can help getting the maximum rebates.
Save money and at the same time, help save the planet. Ask us how.
Call us at 604-940-2268 to check on the latest rebate information.
watch the video walkthrough of this Boiler Room upgrade